Jaké výzvy na nás čekaly při tvorbě naší první online hry?
Proč jste vytvořili právě online hru?
V říjnu, kdy jsme byli nuceni už podruhé uzavřít provozovny kvůli COVIDu, jsme přemýšleli o tom, s čím novým bychom mohli přijít. Měli jsme plány na vybudování dalších únikových her, ale vzhledem k situaci jsme museli tyto plány přehodnotit. Chtěli jsme však našim příznivcům přinést něco nového a ukázat, že jsme stále tady a pln nápadů! Výsledkem je The Hack.
Proč jste pro hru zvolili zrovna téma hackerského útoku?
Téma bylo velmi ovlivněno právě digitálním formátem hry. Chtěli jsme vytvořit hru, během které hráči hrají s přáteli online a za pomocí PC řeší hádanky a úkoly. Snažili jsme se přijít se scénářem, ve kterém by probíhala přirozená interakce s počítačem a s dalšími hráči připojenými online. Pokud vyšetřujete vraždu, přirozeně chcete navštívit místo činu a shromáždit fyzické důkazy. Proto jsme jako hlavní myšlenku vybrali počítačovou kriminalitu, kterou lze nejlépe vyšetřit právě v kyberprostoru. Abychom byli upřímní, zpočátku jsme přemýšleli o tom, že do role hackerů postavíme hráče samotné. Záhy jsme si však uvědomili, že se touto cestou nemůžeme dát. Hráče, kteří nejsou tak technicky zdatní, by mohly odradit některé hacking napodobující úkoly, zatímco zkušenější uživatelé, kteří programování a hackingu skutečně rozumějí, by mohli být zklamáni úkoly, které jsou pouhou iluzí. Hacking jako takový může být také morálně kontroverzním tématem, které vyžaduje k vysvětlení či ospravedlnění opravdu propracovaný příběh, což by se v online formátu nemuselo podařit. Proto jsme přišli se scénářem, kdy hackeři jsou hledanými padouchy a naši hráči jsou detektivové z útvaru pro kyberkriminalitu, kteří se je snaží chytit. Hra je i tak velice zábavná a zajímavá, ale nevyžaduje víc, než jen základní počítačové dovednosti.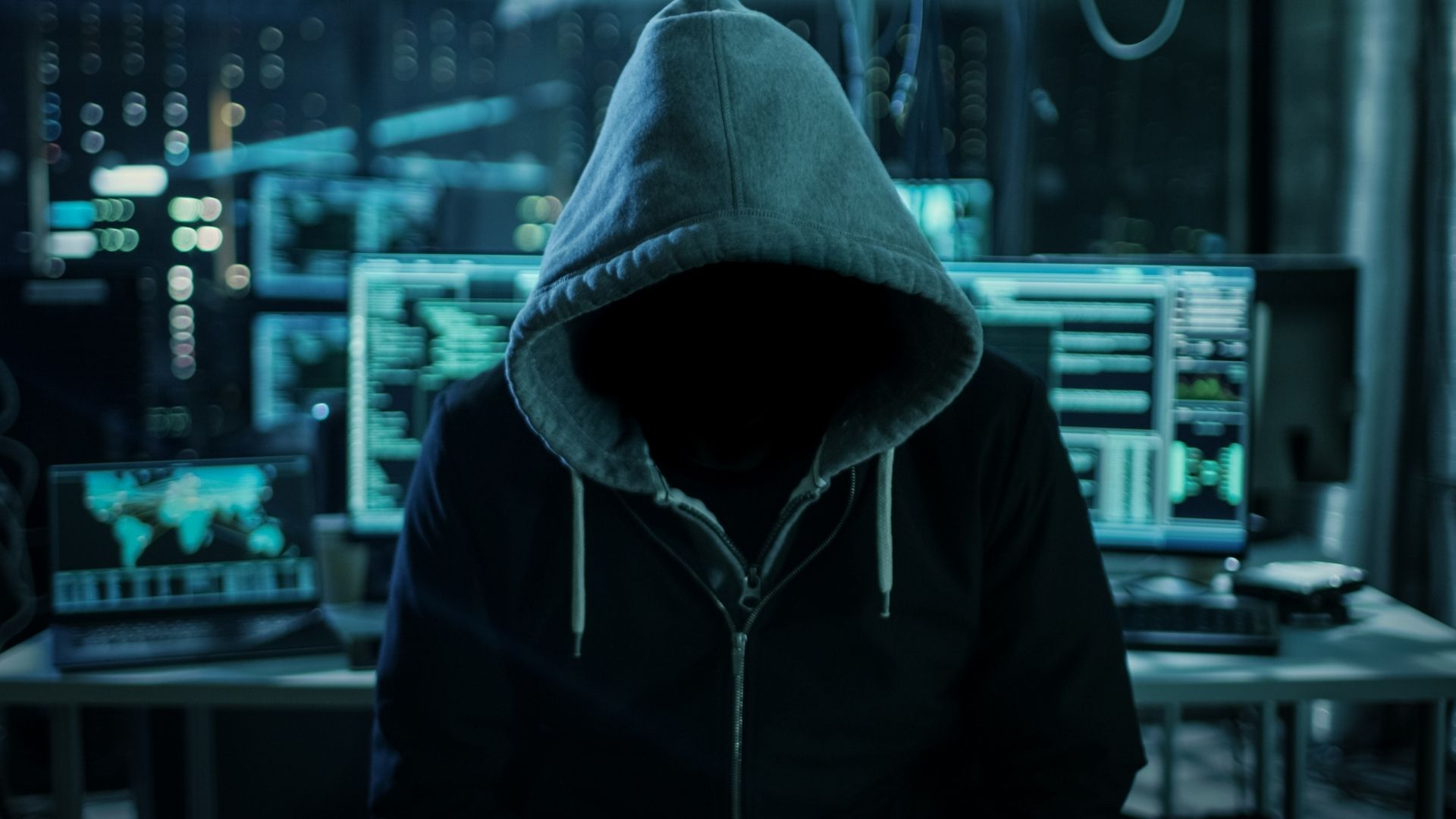 Co ohledně tohoto virtuálního formátu pro vás bylo největší výzvou?
Od prvopočátku jsme měli jasno v tom, že chceme hru hlavně snadno přístupnou. Abychom se vyhnuli komplikovanému stahování a instalaci softwaru, hru jsme postavili tak, aby plně fungovala ve webovém prohlížeči a byla tak dostupná opravdu pro každého. Dalším důležitým bodem bylo umožnit hráčům hrát kdykoli bez nutnosti rezervace předem - to je opravdu velká výhoda ve srovnání s klasickými únikovými hrami. Kdekoli a kdykoli budete mít čas, můžete se jednoduše rozhodnout hrát a po několika kliknutích jste připraveni začít. Stejně jako u všech našich her jsme chtěli vytvořit pohlcující zážitek s atmosférou reálného vyšetřování. Pokud totiž chcete, aby se vaši hráči cítili jako vesmírní hrdinové, postavíte pro ně ve hře vesmírnou loď. Stejného efektu jsme chtěli dosáhnout i v tomto digitálním světě. Chtěli jsme, aby se hráči cítili jako opravdoví detektivové, a proto jsme se snažili zážitek navrhnout co nejrealističtěji. Hra the Hack vyžaduje, aby hráči procházeli hrou a podnikali jednotlivé kroky jako skuteční vyšetřovatelé: musí projít důkazy, zkontrolovat vyšetřovací dokumenty, navštívit hacknuté weby, dešifrovat kódy k vystopování zločinců, analyzovat zvukové a video soubory a také využít nejrůznější online nástroje - například nástroj pro sledování letů. Důležité bylo do hry vnést prvky skutečného světa, zajímavé online nástroje, se kterými mohou hráči pracovat. Toto všechno dohromady přidává celému zážitku realistický dojem a hlavně na důvěryhodnosti. Samozřejmě i u tohoto formátu existují omezení, jelikož nemůžeme ovlivnit prostředí a vybavení hráčů, ale věříme, že hra dokáže přivést na jiné myšlenky a zcela pohltit a to je to, čeho jsme chtěli dosáhnout.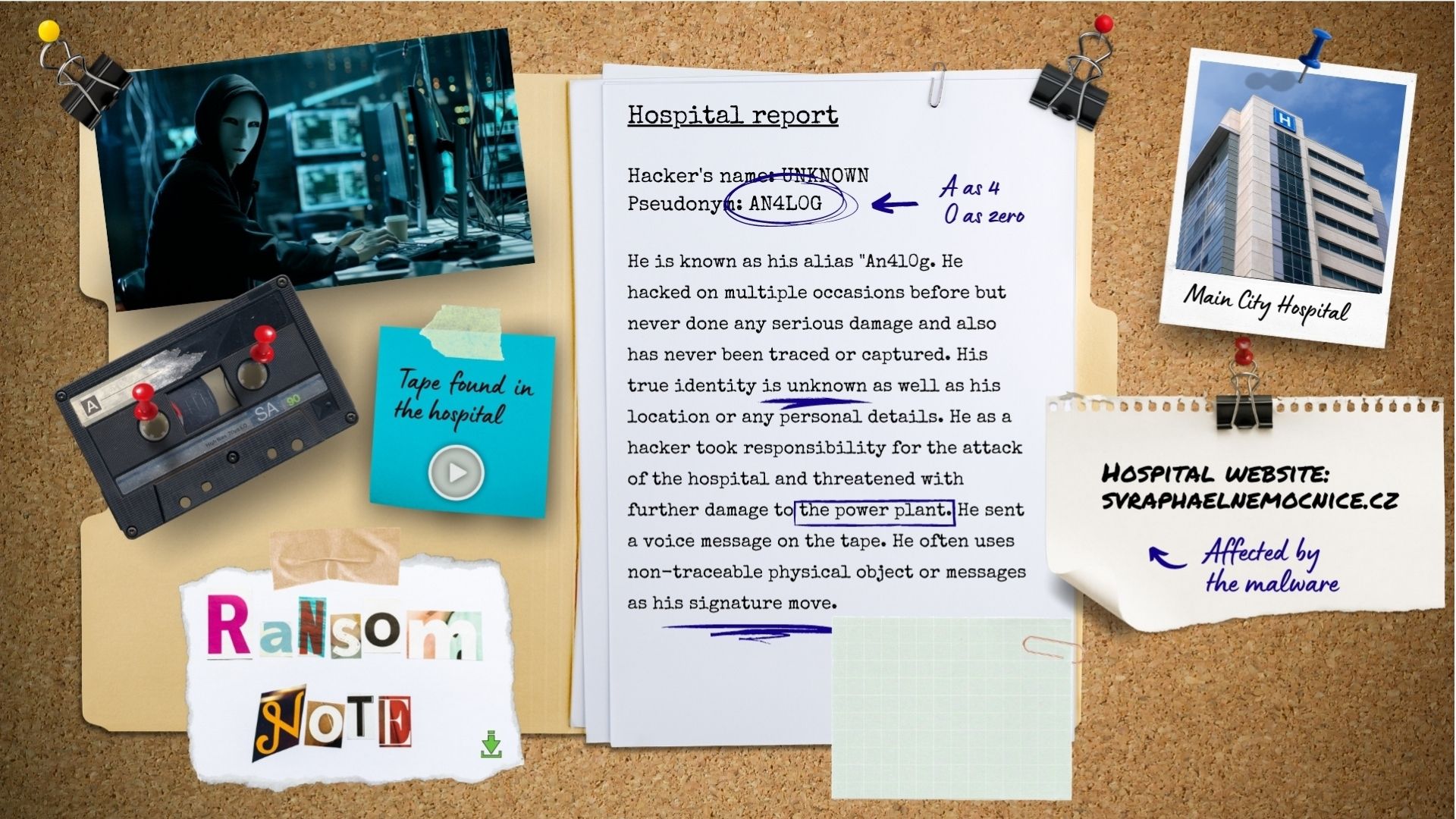 Objevily se během vývoje hry nějaké nečekané potíže?
Tato hra není optimalizována pro mobilní telefony nebo tablety, i když je to v dnešní době velmi smysluplný požadavek. Snažili jsme se přijít s řešením, ale z konstrukčního hlediska bychom museli obětovat příliš mnoho. Proto jsme se museli držet pouze formátu pro PC - alespoň prozatím. Abyste si tento zážitek mohli naplno užít, potřebujete notebook nebo stolní počítač a internetový prohlížeč. Další náročnou součástí vývoje bylo učinit zakoupení hry a proces vytváření týmu uživatelsky přívětivými. Je poměrně snadné tyto procesy nastavit tak, aby byly bezpečné, ale přílišná a složitá zabezpečení mohou hráče odradit. Měli jsme několik verzí a věříme, že se nám podařilo zvolit tu nejvhodnější. Hráči si mohou jednoduše zakoupit vstupní kód pro hru na našem e-shopu. Poté mohou do hry přizvat další členy svého týmu. Snažili jsme se zajistit, aby byl proces co nejintuitivnější, ale přesto plánujeme vytvořit video návod, aby hráči věděli, co přesně mohou očekávat.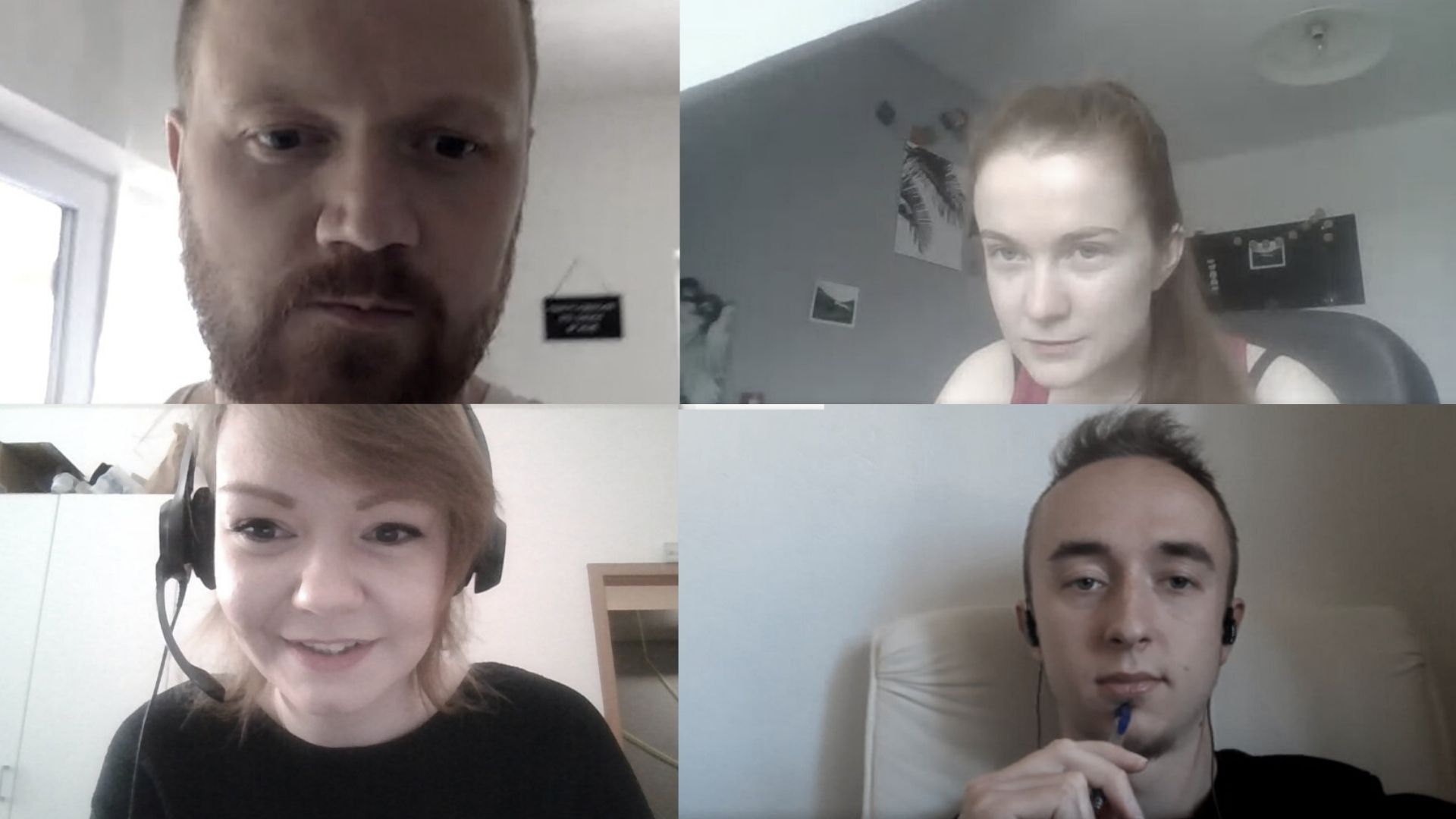 Změnili jste na hře něco po jejím testování?
Ach ano! První testy přinesly neočekávané výsledky. Měli jsme za to, že hra bude trvat tak 1-1,5 hodiny a ukázalo se, že její pokoření zabere až 3-4 hodiny! Museli jsme předělat výchozí bod hry, digitální tabuli důkazů, tak, aby hráči na začátku hry snáze orientovali a informace o případu byly přehlednější. Tímto krokem jsme značně zkrátli herní čas a eliminovali případný zdroj frustrace. Navíc je online komunikace mezi hráči mnohem pomalejší než normálně, což jsme zapomněli vzít v potaz. Při diskuzích o hře s testovacími týmy se ale ukázalo, že jim delší hra nevadí. Důležité bylo správně vyjádřit to, co hráči mohou očekávat - pokud se jedná o 2-3 hodinovou hru, hráči na to musí být připraveni předem. Uvažovali jsme o reorganizaci celé hry, či dokonce ořezání jejího obsahu, ale nakonec jsme se rozhodli, že delší hrací doba může být v tomto online formátu vlastně dobrá věc. V normálních únikových hrách je těžké dělat delší hry, protože 1 hodina je ideální doba pro to, aby lidé zůstali aktivní a soustředění v rámci nového prostředí. Ale s tímto digitálním formátem hráči hrají z pohodlí domova a také si mohou kdykoli dát pauzu a pak se ke hře opět vrátit. Nakonec jsme se rozhodli, že toto médium je perfektní pro delší herní zážitek! Další výzva, která vyvstala na povrch během testů, spočívala v tom, že vzhledem k novosti tohoto formátu si hráči nebyli docela jistí, jak hru spustit a používat - oproti skutečným únikovým hrám existuje několik rozdílů, například automatizovaný systém nápovědy. Uvědomili jsme si, že musíme hráčům poskytnout rychlý úvod do hry, ale nemáme k dispozici luxus ve formě skutečného game mastera, který by týmy informoval o jejích specifikách. Nakonec jsme vytvořili několik vizuálních tipů, jak hru hrát. Tipy jsou dostatečně krátké na to, abyste si je mohli přečíst těsně před hrou, ale poskytují dostatek informací, abyste pochopili, jak začít. Hráči se také mohou k těmto tipům kdykoli v průběhu hry vrátit.
Jak hráči přijali automatický systém nápověd?
Lépe, než jsme původně očekávali! Ale opět jsme pracovali s několika verzemi, dokud jsme nenašli konečné řešení. Vzhledem k tomu, že tým neprovází skutečný game master, věděli jsme od začátku, že hráči budou muset používat automatizovaný systém nápovědy. Nejprve jsme vyvinuli chatovacího robota, který byl vložen na hlavní stránku - kdykoli hráči potřebovali nápovědu, mohli ji v tomto chatu získat. Už bylo vše připraveno, když v polovině prosince byl v EU přijat nový zákon, který nám doslova zabránil vložit automatizovaný chat na externí stránku. Trvalo nám několik dní, než jsme přišli na to, proč robot už nefunguje. Museli jsme tedy začít znovu a tentokrát jsme se rozhodli pro systém integrovaný přímo ve hře. Čtyřmístný kód pro nápovědu je k dispozici v každé části hry, ale nenarušuje ji. Když hráči vloží tento kód do okna pro nápovědu, spustí se tok zpráv. Pro každý kód dostanou hráči na výběr z jedné až tří rad - první nápověda je nejobecnější a navede detektivy správným směrem a ta poslední je velice přímočará. Ale co když nápověda nestačí? Uvědomili jsme si, že je zásadní, aby si hráči mohli také zkontrolovat řešení. Trochu jsme se báli, že pokud bude získání nápovědy tak snadné, hráči je budou zbytečně příliš užívat. Ale naštěstí tomu tak není a hráči jsou s nápovědami opatrní, protože si stále chtějí svou hru užít a přemýšlet nad řešeními sami. Samozřejmě existují i ​​nevýhody automatizovaného systému nápovědy. Někdy hráči kliknou na nápovědu 1 a dostanou informace, které již mají. Automatizovaný systém nelze adaptovat natolik, jako se dokáže přizpůsobit skutečný game master v reálném životě, který hru bedlivě sleduje a ví, která nápověda týmu zrovna pomůže. Ale toto je taková daň za svobodu "hrát kdykoli a odkudkoli". Zdá se však, že hráči toto chápou a nápovědu pro hru využívají v rozumné míře. Někteří hráči ve skutečnosti ocení, že mají vše pod kontrolou, i když mají nápovědu.
Jak byla hra přijata celkově?
Zdá se, že zatím každý, kdo si hru zahrál, si ji náramně užil a měla úspěch! Zatím máme dojem, že tento nový formát je ještě pro některé uživatele trochu neznámou. Je to nejbližší možný zážitek k únikové hře, ale přesto se najdou rozdíly, které zmiňujeme výše. Není to ani videohra v klasickém slova smyslu. Je tedy těžké ji zařadit do nějaké již existující kategorie. Proto se může zdát, že někteří hráči tomuto formátu nevěří, protože si nejsou jisti, co mohou od hry očekávat. Ale pokud milujete únikové hry, tato hra vás bude taky zaručeně bavit! Vyzkoušejte ji!
Máte pro tento online formát nějaké další plány do budoucna?
Prozatím vylepšujeme verzi hry pro teambuilding. Vytvořili jsme kratší, hodinovou variantu hry, což je vhodnější délka právě pro týmové akce, jako je například teambuilding. V prosinci a lednu jsme už měli několik takových akcí. Hlavní rozdíl je v tom, že během aktivit tohoto typu povoláme tým skutečných game masterů. Tyto akce mívají obvykle časově přísnější harmonogram, takže se game masteři snaží udržet hráče na správné cestě, a tím zajistit i plynulý průběh hry. V tuto chvíli dokážeme uspořádat akce až pro 100 hráčů najednou, ale pracujeme na některých dalších úpravách, které by nám umožnily ještě více účastníků současně. Vedle toho se už někteří hráči ptali, zda plánujeme další online hru, takže uvidíme!
Na otázky odpověděla Krisztina Gál-Csalami, designerka společnosti MindMaze