Jak se vytvářel online teambuilding

Myšlenka online teambuildingu
V posledních letech je čím dál častější, že zaměstnanci jedné firmy pracují na různých místech a kolegové v rámci jednoho týmu musí spolupracovat na dálku. Kvůli pandemii koronaviru a vyhlášenému omezení volného pohybu navíc byla většina firem nucena přejít na home office. Každý, kdo může, pracuje z domova za využití všech dostupných online konferenčních nástrojů. Zatímco většinu pracovních záležitostí lze vyřešit pomocí videohovorů, týmový duch a osobní vztahy se tímto způsobem zachovávají obtížně. Proto je přirozené snažit se zorganizovat nějakou teambuildingovou aktivitu, avšak realizace této aktivity může být celkem náročná.
Pár týdnů od začátku karantény nás oslovila firma s žádostí, zda bychom pro celý jejich tým vytvořili zábavnou hru, která by sloužila jako online teambuilding. V MindMaze víme, jak důležité je, aby se kolegové mezi sebou dobře znali a aby si rozuměli, jelikož to umožňuje efektivní spolupráci. Pro firmu, která nás tentokrát oslovila, už jsme v minulosti uspořádali mnoho akcí - vyzkoušeli už každou z našich běžných nabídek teambuildingových aktivit od únikových her po virtuální realitu. Ačkoliv nás tentokrát požádali o něco, co jsme zatím ve svém portfoliu neměli, rádi jsme výzvu přijali.
Naším úkolem bylo zorganizovat online událost pro 50 účastníků, se snadným online přístupem a využitím všeobecně dostupné platformy. Zároveň jsme museli vzít v úvahu, že budou hrát lidé hovořící různými jazyky a také zařídit, aby všechny aktivity byly pro každého zajímavé a zábavné. Cílem bylo vytvořit událost, která umožní kolegům strávit spolu nějaký čas, i když se zrovna nemohou vídat. Požadovaný časový limit byl 2-3 hodiny. Tak jsme se dali do toho!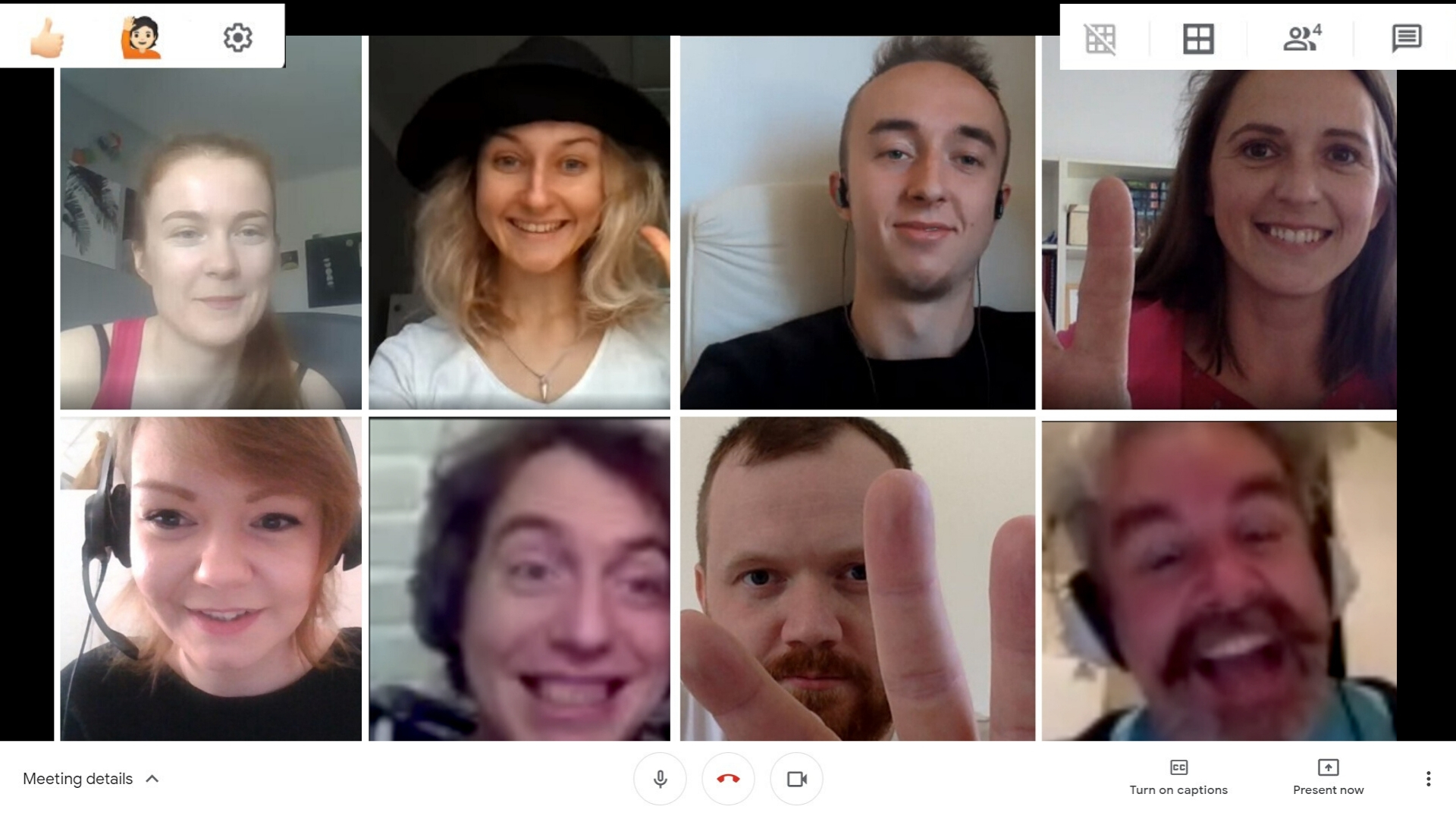 První překážka, na kterou jsme narazili, bylo to, že videohovor obsahující 50 lidí se stane nevyhnutelně chaotickým, pokud spolu mají všichni lidé kooperovat. Proto jsme rozdělili hráče do menších skupinek 4-5 lidí. Tyto menší týmy soupeřily mezi sebou v plnění nejrůznějších úkolů a zábavných aktivit. Jednotlivé úkoly měly časový limit, abychom zajistili hladký průběh ve stanoveném čase.
Vytvořili jsme také online výsledkovou listinu, kterou jsme po každém úkolu pravidelně doplňovali, aby se týmy mohly mezi sebou porovnávat. To povzbudí soutěživost! Každý tým navíc dostal jednoho žolíka, kterého bylo možné uplatnit před každou kategorií úkolů. Tento žolík znamenal zdvojnásobení bodů za danou kategorii, a proto mohl posunout i poslední tým na první místo! V průběhu herní události docházelo k mnoha spekulacím ohledně použití žolíka a týmy se snažily odhadnout, kdy ho nejlépe zahrát, aby získaly co největší výhodu.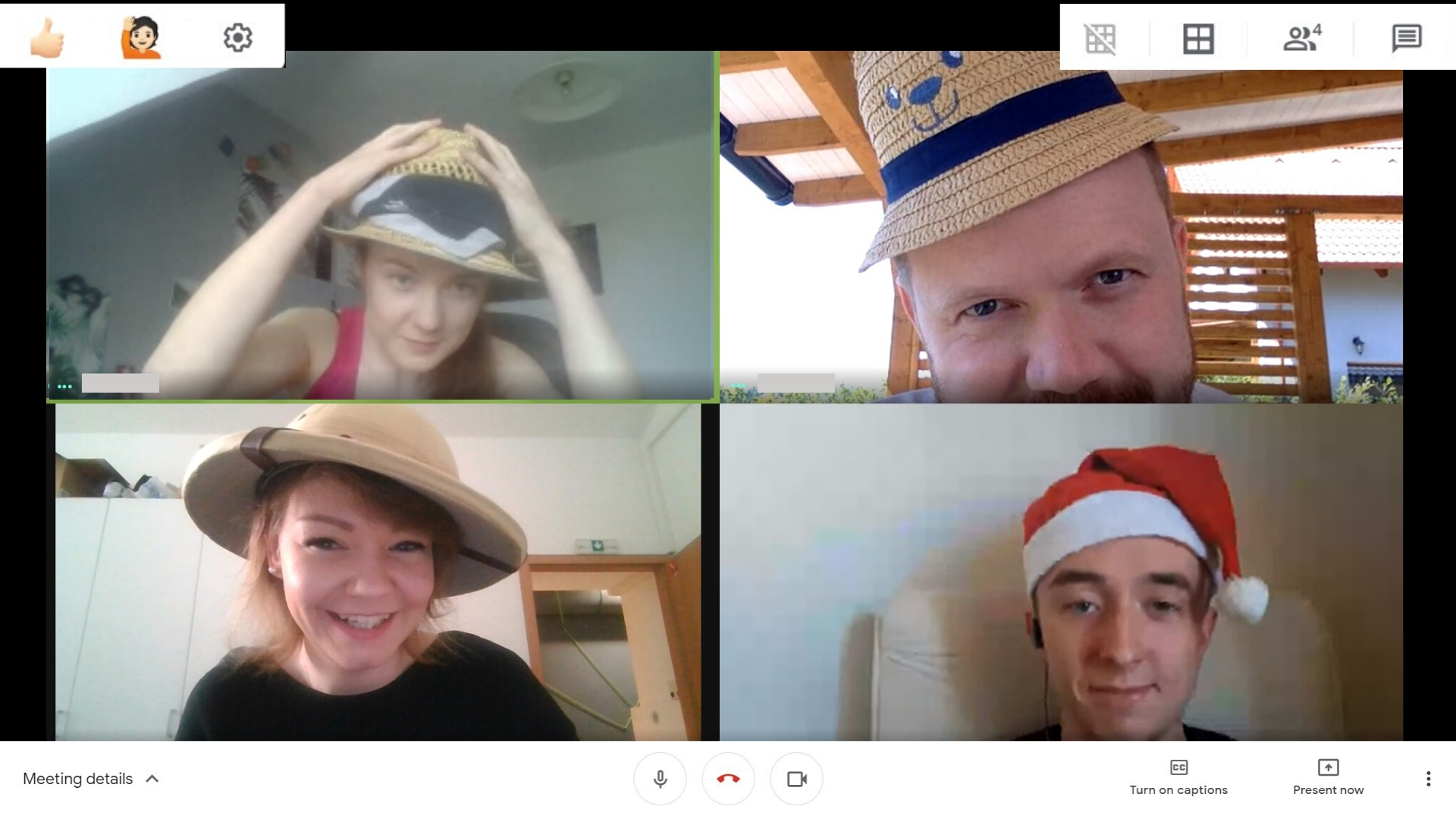 Vytvořili jsme pro hráče širokou škálu nejrůznějších úkolů a aktivit. Všechny úkoly byly navrženy tak, aby povzbuzovaly schopnost komunikace a spolupráce v týmu v online prostředí. Při vytváření úkolů jsme mysleli na to, aby si všichni mohli najít něco, co je bude bavit a budou v tom dobří. Některé úkoly vyžadují kreativitu, jiné všeobecné znalosti, další cit pro detail či humor. Jedna z největších výzev spočívala v zahrnutí fyzických aktivit, které jsou zároveň dostupné pro všechny a zároveň jsou zábavné i přes internet. Nicméně díky konzultaci s klientem se nám povedlo zařadit kategorii fyzických úkolů, které donutily hráče zvednout se ze židle a začít se hýbat.
Hra je rozdělena do několika kol, o 8-10 úkolech a zabere okolo 2 hodin čistého herního času. Po skončení soutěže se všichni účastníci připojí do společného meetingu, ve kterém celou akci zhodnotíme. Na hodnocení a zpětnou vazbu je třeba vyčlenit 10-15 minut.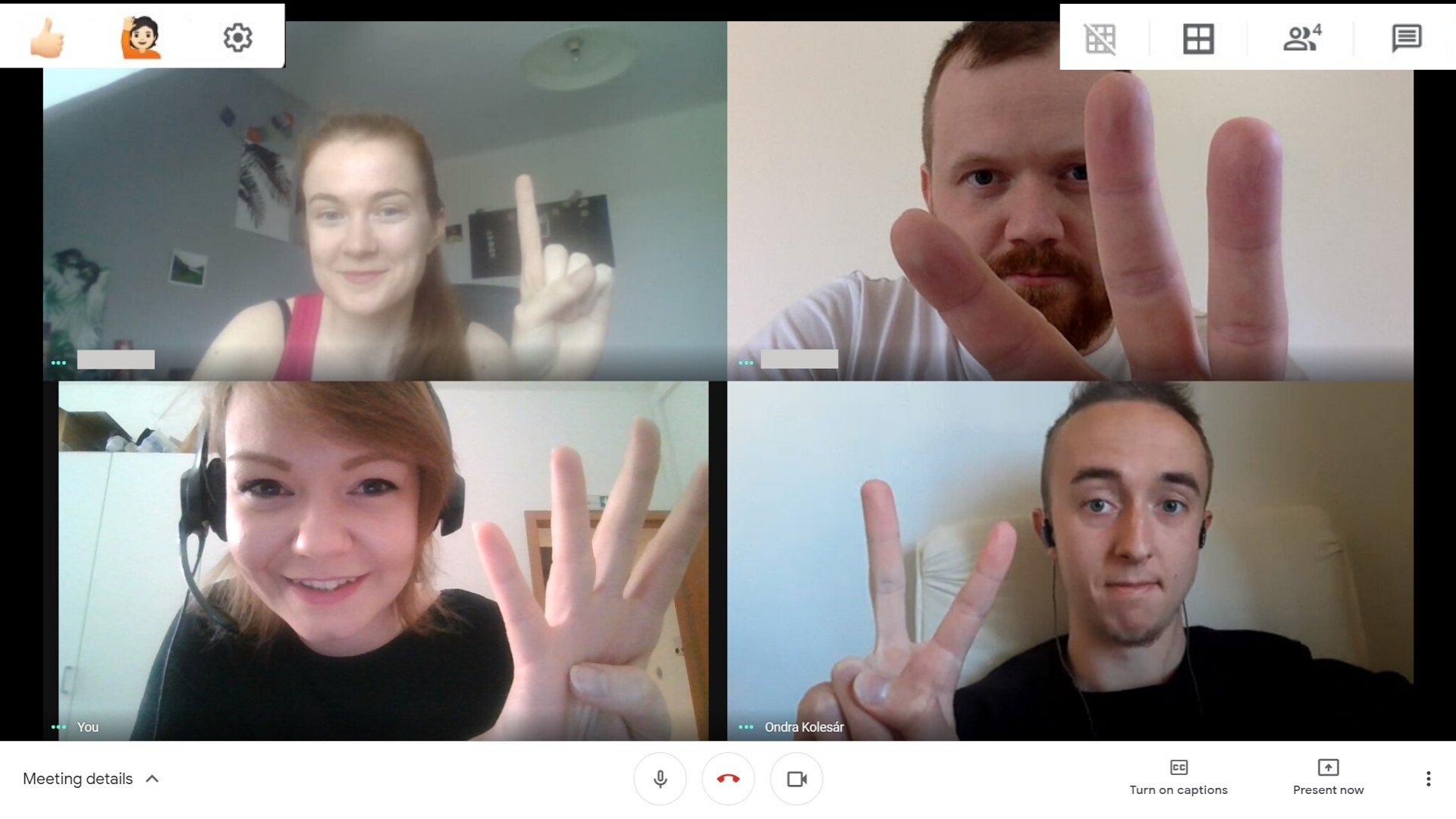 Pro video hovory zpravidla využíváme aplikace Google Meet nebo Zoom - kdokoliv s odkazem se může do hovoru zapojit a není třeba žádných speciálních loginů nebo zadávání přístupových kódů. Hry můžeme spustit i prostřednictvím MS Teams.
Každý tým dostal k dispozici jednoho game mastera, který dává na hru pozor, vyhodnocuje úkoly, počítá body a kontroluje čas. Game master není aktivní součástí hovoru, ale zadává úkoly a komunikuje s týmem pomocí chatu. Tento aspekt hry je však možné na požádání upravit. Game master je také týmu nápomocný, pokud je to potřeba - může vyjasnit zadání či pomoci s technickými potížemi.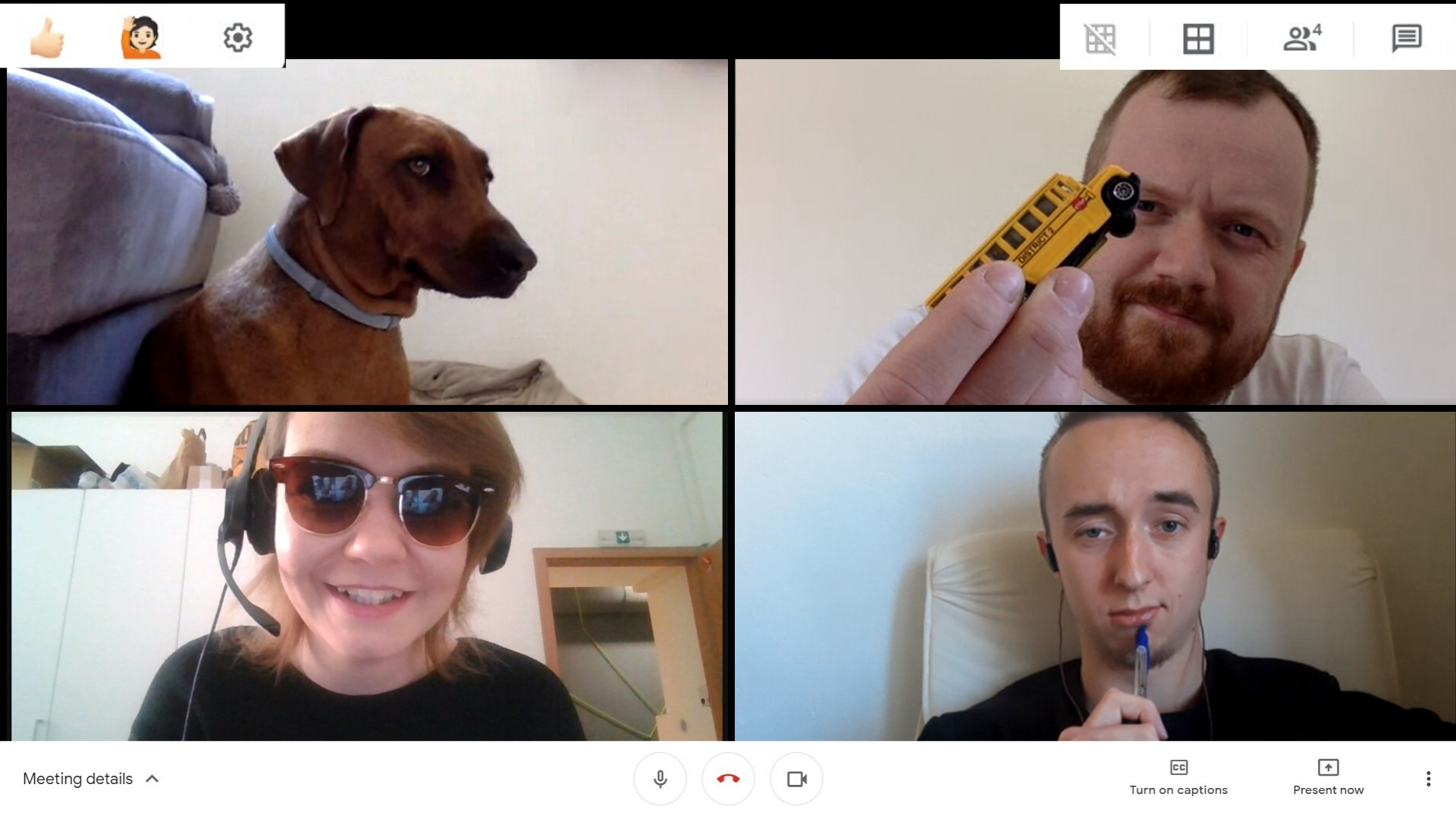 Měli jsme dva týdny na přípravu a testování hry před samotnou událostí. Podnikli jsme dvě kola testů - jedno s našimi game mastery z MindMaze. Byla to ohromná zábava a navíc jsme tím získali příležitost mít trochu vlastního teambuildingu během karantény.
Po každém kole testů jsme poupravili úkoly a technické zázemí, aby teambuilding mohl proběhnout hladce pro hráče i game mastery.
Ve výsledku jsme měli 34 účastníků rozdělených do 6 skupin, které obsluhovalo 6 game masterů a 1 hlavní koordinátor, který všechno řídil z pozadí. Celkem 5 skupin bylo českých a 1 anglická. Naštěstí nenastaly žádné technické potíže a všichni se skvěle bavili! Někteří se nemohli dočkat konce soutěže a rovnou sdíleli svá kreativní řešení se všemi. Ke spoustě hráčů se také připojily jejich děti a v některých případech pomáhali s řešením úkolů i domácí mazlíčci.
Po proběhlé události jsme poslali hráčům anketu s žádostí o vyplnění. Zpětnou vazbu zaslala více než polovina účastníků. S výjimkou jednoho hráče se hodnocení pohybovalo mezi 4 a 5 z celkových 5 hvězd. Všichni by navíc doporučili tuto událost svým kamarádům i dalším kolegům, což nás velmi potěšilo.
Samozřejmě jsme dostali i konstruktivní zpětnou vazbu. Jeden z nejčastějších problémů byl, že bodování jednotlivých úkolů nebylo všem zcela jasné, a tudíž bylo těžké se rozhodnout, kdy využít žolíka. Dalším častým problémem, na který jsme přišli již před samotnou událostí, se ukázal být email od MindMaze s úvodními informacemi o události, který bohužel spoustě hráčů přistál ve spamu. Oba tyto problémy se již snažíme řešit.
Velice kladně hodnotili hráči výhodu online formátu; mohli se tak připojit i kolegové pracující na dálku z Brna i ze Slovenska, kteří se normálně mohou účastnit teambuildingu, jenom pokud se dostanou do Prahy. Online teambuildingu se ale může zúčastnit kdokoliv z celého světa - ať už je pouze v jiném městě nebo dokonce na jiném kontinentu. Konečně se tedy mohou zapojit i všechny týmy pracující vzdáleně.
Už máme za sebou poměrně dost akcí…
Od první akce tohoto typu v v březnu 2020, jsme zorganizovali mnoho dalších online kancelářských olympiád pro od sebe vzdálené týmy. Našimi zákazníky byly nejrozmanitější skupiny od cheerleaderek, generální manažery z více než 20 různých zemí, neformální pracovní kolektivy, skupiny přátel, po účast na mezinárodních konferencích. Každá akce je sama o sobě jedinečná, bereme si z ní ponauční, přináší nám další poznatky a zkušenosti.
Celkově věříme, že jsme vyvinuli herní formát, který zábavným způsobem zdůrazňuje důležitost týmové práce a poskytuje 2-3 hodinový veselý zážitek hráčům, i když jsou právě od sebe navzájem vzdálení a fyzicky odloučeni.